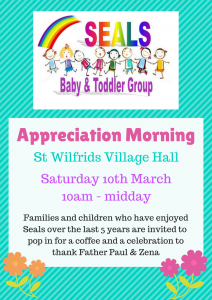 As you will probably be aware by now Father Paul is retiring in April and he and Zena will be leaving Chidham. For the last 5 years they have run the Seals playgroup and without their stewardship the group will be unable to continue in its current form.
To give both them and Seals a celebratory send off we are organising a pop in play session for all the families that have been involved in the group. Please feel free to pop in whenever you can during the two hours to say hello, have a play and a drink.
Donations of cakes or nibbles would be much appreciated.
(Please note this will replace the session on 9th Feb and the session on 2nd is cancelled due to frozen pipes)