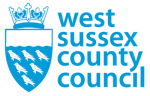 The application process for children due to start school in September 2019 will begin on Monday 1 October 2018.
Apply online at www.westsussex.gov.uk/admissions
Applications can be made between 1 October 2018 and 15 January 2019
Special rules apply for house movers until 15 February 2019
The Information for Parents booklet is available on our website now
Further information is available by ringing 03330 142 903
See poster, see leaflet.  A message from West Sussex County Council.
---